Hey Everyone!
My name is Olivia. I am a styling consultant keen on ideas for hair buns I create for my clients and myself. Buns are a perfect styling tip for any occasion, and they're quite easy and quick to make. That is why I want to share with you some of my favorite hair bun ideas.
Bun Ideas For Long Hair
The majority of my clients look for interesting long hair bun ideas. It is quite complicated to work with long hair at home. Here, my favorite option is adding dutch braids to the bun. Use your straightener to make smooth hair locks, make nose-oriented straight hair parting, take three locks of equal thickness from one side of the parting and start making a braid. Make a bun and cover its basis with the braid.
This is one of multiple long hair buns ideas I recommend to my clients, because it looks chic, doesn't have to be too neat, and, in my opinion, it is one of the best bun ideas for thick hair.
Cute Hair Bun Ideas For Short Hair
Since short haircuts are in trend, bun ideas for short hair are quite relevant. The best option here is a low twisted bun. Thoroughly brush your hair and use a straightener to make it as long as possible. Fix your hair with a scrunchie or hairpin and make a low ponytail. Use straightener again to get one straight hair lock and twist it over the ponytail founding. Use the hairspray and a few hairpins to fix the bun.
This hairdo is also one of the most popular bun ideas for thin hair because it doesn't require much hair volume and looks classy.
I also watch YouTube Hair styling channels, and I do like this video. Milabu is the YouTube queen for short hair hairstyles!
Bun Ideas For Curly Hair
If you are a lucky curly hair owner, bun ideas for curly hair are quite alluring. Don't be afraid to try new styles, because curly hair is perfect for trying various bun hair ideas. The bouffant bun is one of the best curly hair bun ideas that's been one of the most popular hairdos since the 1960s.
As you start making the bouffant bun, don't forget to leave straight hair lock on the front hairline for finishing. If you seek for some cute hair bun ideas, try decorating bouffant bun with flowers or bows. This hair bun is an excellent choice for special occasions and evening events.
Christmas Hair Bun Ideas
If you need to make something cushy and stylish for the family holiday, my Christmas hair bun ideas are usually focused on variations of top knot buns. This is a good option for long and curly hair, but it is also possible to make an evening top knot with thin hair. Tease your hair with a wooden hairbrush. Straighten hair locks near the temples and leave them to use as a final decorating element. Put your hair up and make a bun as high as possible without fixing it too tightly.
This relaxed hairdo is perfect for those who like cute hair bun ideas, and it doesn't require additional styling products. You can make it anywhere, which makes creating such hair bun ideas easy for anyone.
Try These Simple Hair Bun Ideas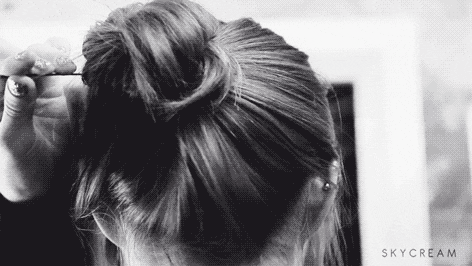 All these buns can be easily created at home with the help of a straightener, a scrunchie, a hairpin, and a hairspray. I share these simple tips with my clients so that they could elaborate their own cool hair bun ideas, combining different hairstyles and applying them to their unique type of hair.
Your hair gives you space for experimenting and expressing yourself, and besides, bun hairstyles can look so attractive! It doesn't matter whether you look for bun ideas for black hair, or you want to make a bun on blond curls: on my list I have bun ideas for hair of any color.
Hair bun is perfect for a special evening because you can adapt a bun to your look and make it unique. If you start using these simple hair bun ideas, you will also improve your hairstyling skills, and next time it will take noticeably less effort to make a perfect bun.
Do you have any other ideas on hair buns? Let me know in the comment section below!