This question is bothering many women. Usually, we have a picture of our favorite character from a movie, TV show or book in mind. It is getting even more complicated once our beloved character is from crazy vivid anime. Unfortunately, colors that we love the most can't be the most suitable option. I, for starters, adore green color, but after several unsuccessful attempts to make green the new black in my rebellious years, I realized that it is not my color.
The desire to express your inner self through the new color of your hair, to look younger, boldly is only natural. And you can find your own voice staying posh and superb. To do this, forget about picking the color that looks at you. Match the color with the tone of your skin and your eyes.
How To Choose The Right Hair Color By Skin Tone?
We spend hours trying to find the perfect balance between the colors of our outfit. The same goes for skin and hair. They need to complement each other. Basically, there are three types of skin: pale, brown and dark. And you must take it to consideration choosing hair color. Hint! If you are willing to try one of the hair developers, and you are not sure how to choose a developer for hair color, pick the 10 developers to lift your hair only on one tone. So, your hair will still be compatible with skin and will suit you. But, never try 40 volume developer at home, without professional hairdresser, as it contains the highest number of hydrogen peroxide and can damage your hair for good.
Related Post: Best Color Depositing Conditioners For Gray Hair Reviewed
Pale Skin
The contrast colors for pale skin are dark brown or black. Usually, pale skin goes well with all cool tones, with red, pink and blue undertones. Many celebrities with pale skin prefer light hair colors, including icy blondes. Violet red and mocha brown match with red and pink undertones of skin.
It looks perfect with pale skin owners with the light color of eyes, like grey or blue. For people with brown eyes and skin of golden, peach or yellow undertone the best options are warmer colors, like honey, butterscotch and strawberry blond.
Brown Skin
Brown is similar to European tones and goes best with warmer hair colors. The color palette starts with dark blondes and continued to dark chocolate browns. You can clash lighter and darker shades as well. No matter what is the color of your eyes, honey-colored blond, mocha, caramel and golden brown suits everyone with brown skin. Remember not to pick the same hair color as your skin or you will be just washed out.
The common rule is to go with hair darker than skin. Olive toned skin looks great in deep brown colors with some hints of red color, like in Auburn, chestnut or cinnamon. But avoid golden caramel, tawny blond, and copper.
Dark Skin
There are two options for dark skin owners: either lighter hair color or darker than skin. Both variants will create a contrast between skin and color. The main idea is not to go close with your natural skin tone or it will collide. Women with dark cool skin can try inky black or dark espresso. Women with warm dark skin will look great with maple brown, mahogany and toffee colors.
Related Post: Best Shampoos For Color-Treated Hair
How to choose the best hair color compatible with your eyes?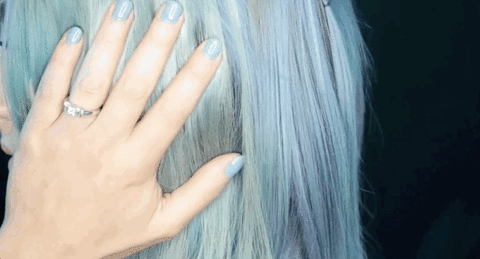 Skin tone is crucial when you are picking up hair color. But you also need to consider the color of your eyes. It is essential to take these two factors into your attention:
Brown eyes or hazel usually mean that you have warm tones of skin and it is better to focus on warm colors for hair like honey blond, caramel, auburn, toffee or chestnut brown. Golden undertones in hair bring your eyes shiny look. The cool shades like silver and platinum blond will add contrast.
Colored eyes like green, grey, blue, green-hazel usually are comfortable with cool hair colors as many of their owners have a cool tone of skin. Women with cool skin and eyes can go with icy blond easily, while warm skin mixed with colored eyes prefer warm hair colors including honey, red, deep black, chestnut, and light brown hues.
If you are still wondering how to choose the right developer for hair color, to dye your hair at home, you can use numerous online quizzes. I strongly recommend you to use professional help, especially if it is your first time. Still, here are two quizzes for you: